 Whilst hitching peeps is a responsibility I take VERY seriously, I want to have a bloody good time with you! Consider me your one-woman pit crew. I am invested in you from the moment we meet, and already my head is spinning with the possibilities of how I can make this experience, our time together and your day spesh.
Your ceremony shouldn't be the 'shit bit' you endure before you can actually start celebrating, but rather the part that kick-starts the festivities. I am committed to learning about you and all the things that make you guys special, so I can create an experience that's memorable for the right reasons. 
My role is to inspire with fun ideas, help alleviate any stresses, surprise and support you. I bring loads of experience, good vibes and loved up energy to my work and I want you to feel that big ol' hug from me the whole way through the process. Whether your wedding looks like the whole nine yards, an intimate escape or party of 5 – I'm down.
I am riding shotgun towards your big day, and I am bringing the good snacks and all the tunes. 
* waves pompoms*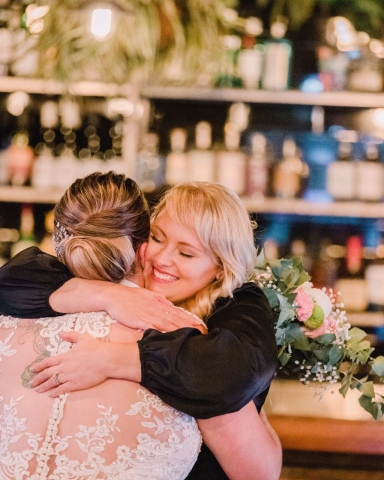 What can you expect from your hitcher
| | |
| --- | --- |
| EXCLUSIVITY | My undivided attention on your wedding day. No back to backs for this lass. |
| COMMUNICATION | Unlimited correspondence and catch ups |
| RESOURCES | An All-Access Pass to the Green Room, an exclusive space for my couples to access a range of planning resources, tools and inspo |
| CONFIDENCE | Relax, I'm in your corner ensuring all the admin and legal stuff is sorted |
| THE DETAILS | Provision of an industry leading wireless sound system, music management including pre and post ceremony playlists, fly attire, early arrival, assistance with signage and support nutting out all the 'little things' ... I love the little things! |
| EXPERIENCE | Over 15 years industry experience to share |
| PERSONAL TOUCH | I take great pride in making this experience memorable and special |
| AN EPIC CEREMONY | Yours should be the greatest damn ceremony you have ever been to! |